Dreidels & More
Drink L'Chaim to special occasions!
Silver prices are up ... but ours are down!
Here's your chance to get a beautiful
silver kiddush cup
at "yesterday's prices." (Discount limited to items in stock.)
| | |
| --- | --- |
| Bier Sterling Kiddush Cup with Pearls | Bier Large Sterling Kiddush Cup |
| Uri Shem Tov Wedding Sterling Kiddush Cup | Bier Wedding Sterling Kiddush Cup |
For great Judaica and gifts -- you're in the right place!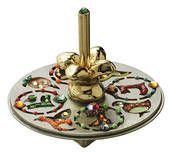 Dreidels & More
offers an extensive selection of Jewish-themed gifts and ritual items, plus tabletop and giftware from popular designers like Michael Aram, L'Objet, Nambe and Quest.
Whether you're looking for a menorah or a mezuzzah, Israeli jewelry or Kosher by Design cookbooks, you'll find it here ... along with music, books, holiday supplies and gifts for adults and kids of every age and taste.
Whatever your need, we offer convenient ways to purchase from us--here at our website, or by calling us at (773) 562-5204 to discuss your needs in detail, get information about items not displayed on the site and arrange for shipping (or free delivery to addresses from the North Side of Chicago and into the northern suburbs).
Gift Certificates
Purchase
gift certificates
for the perfect gift.